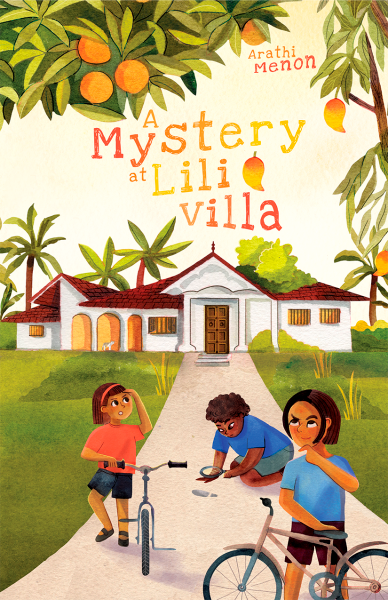 I'm super excited to finally reveal the cover of A Mystery at Lili Villa which is a middle grade mystery book written by Arathi Menon and published by Yali Books.
Cousins Arj, Tam, and Mira are spending their summer vacation in Elathoor, a little village in Kerala when their family home, Lili Villa, is broken into and some jewelry is stolen.
Concept Sketches
It was an absolute pleasure and a throwback to my childhood days to work on this book cover. I worked on 3 concept sketches and we ended up mixing up two of them as you can tell, for the final version. The grey boxes are provisional spaces for the blurb at the back as well as the front cover title.
The Terrific Three set out to solve the mystery but soon discover that there is no shortage of suspects. Is it Pinching Kodavis or Dumdumchecchi, the milking lady? Is it the mean fisherwoman who starves the cat or the retired nurse who owns a luxury car? Or is it Mani with his upside-down Russian secret? Who could the thief possibly be? Preorder A Mystery at Lili Villa to find out.
Did you enjoy the post? Pin it for later using the buttons below!